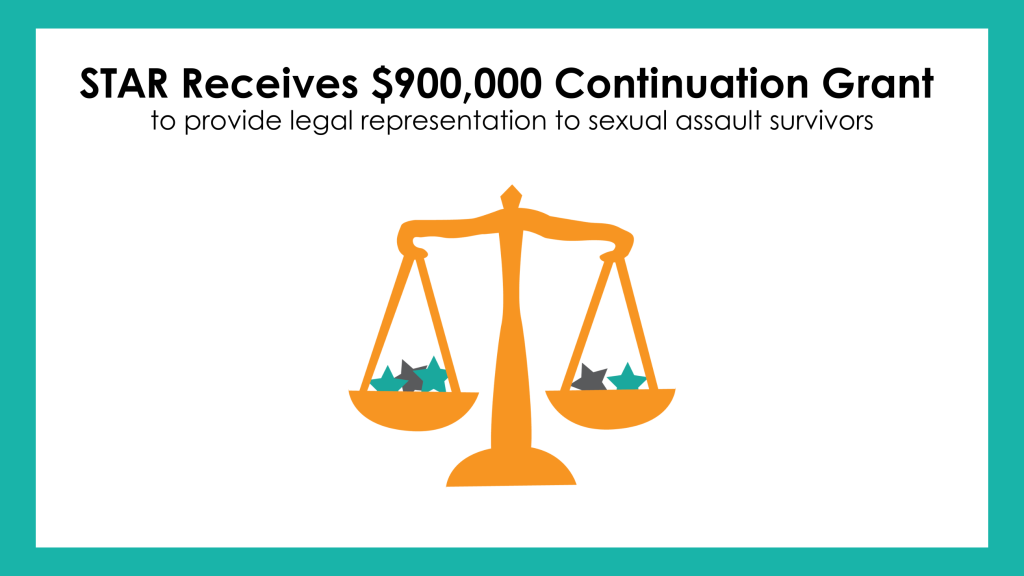 BATON ROUGE, LA (September 19, 2023): SEXUAL TRAUMA AWARENESS AND RESPONSE® (STAR®) a leading nonprofit dedicated to supporting survivors of sexual trauma, improving systems response, and creating social change to end sexual violence, is delighted to announce that it has been awarded a continuation of the prestigious Legal Assistance for Victims (LAV) grant, amounting to $900,000 over another three years. This grant, provided by the Office on Violence Against Women in the Department of Justice, will allow STAR to continue its invaluable work in providing free legal representation to sexual assault survivors.
STAR stands as the sole recipient nationwide to receive the remarkable sum of $900,000 for FY 2023, the highest award granted by the Office on Violence Against Women. This recognition underscores STAR's exceptional dedication and effectiveness in supporting survivors of sexual assault. The grant will enable STAR to further strengthen its award-winning legal program, ensuring that survivors have access to comprehensive legal representation and support.

With the continuation of this grant, STAR will bolster its resources, allowing the organization to continue providing outstanding legal services to survivors. As part of this continuation, STAR is excited to announce the search for a new Legal Director, who will lead the organization's renowned legal program. The Legal Director will play a critical role in ensuring that survivors have expert advocacy and representation throughout their legal journey.

"We are incredibly honored to receive this continuation grant from the Office on Violence Against Women. This funding not only recognizes the impact of our legal program but also allows us to continue offering vital support to survivors of sexual assault," said Morgan Lamandre, CEO at STAR. "We are excited to hire a new Legal Director who will help us further enhance our services and advocate for the rights of survivors. This grant will enable us to continue our mission of supporting survivors and seeking justice on their behalf."

STAR's legal program aims to alleviate the financial burden often faced by survivors seeking justice, while providing compassionate and knowledgeable legal representation. Through the expertise of the new Legal Director and the expanded legal team, STAR will continue to ensure that survivors have the resources and support necessary to navigate the legal system and assert their rights.

In addition to providing free legal representation, STAR will continue its comprehensive range of services, including individual advocacy, counseling, community education and social change programs. The organization remains steadfast in its commitment to raising awareness, preventing sexual assault, and fostering a society that supports survivors in their healing journey.
STAR's legal program was founded in 2015, and after two short years, STAR was honored in 2017 by the Louisiana State Bar Association with the Legal Service Innovation Award. This award recognizes an organization that has developed an innovative program or service that effectively meets the legal needs of vulnerable populations in Louisiana and serves as a model approach for other advocates in the justice community.
Interested parties and members of the press should direct inquiries to Morgan Lamandre at (225) 615-7093 ext. 104 or morgan.lamandre@star.ngo.