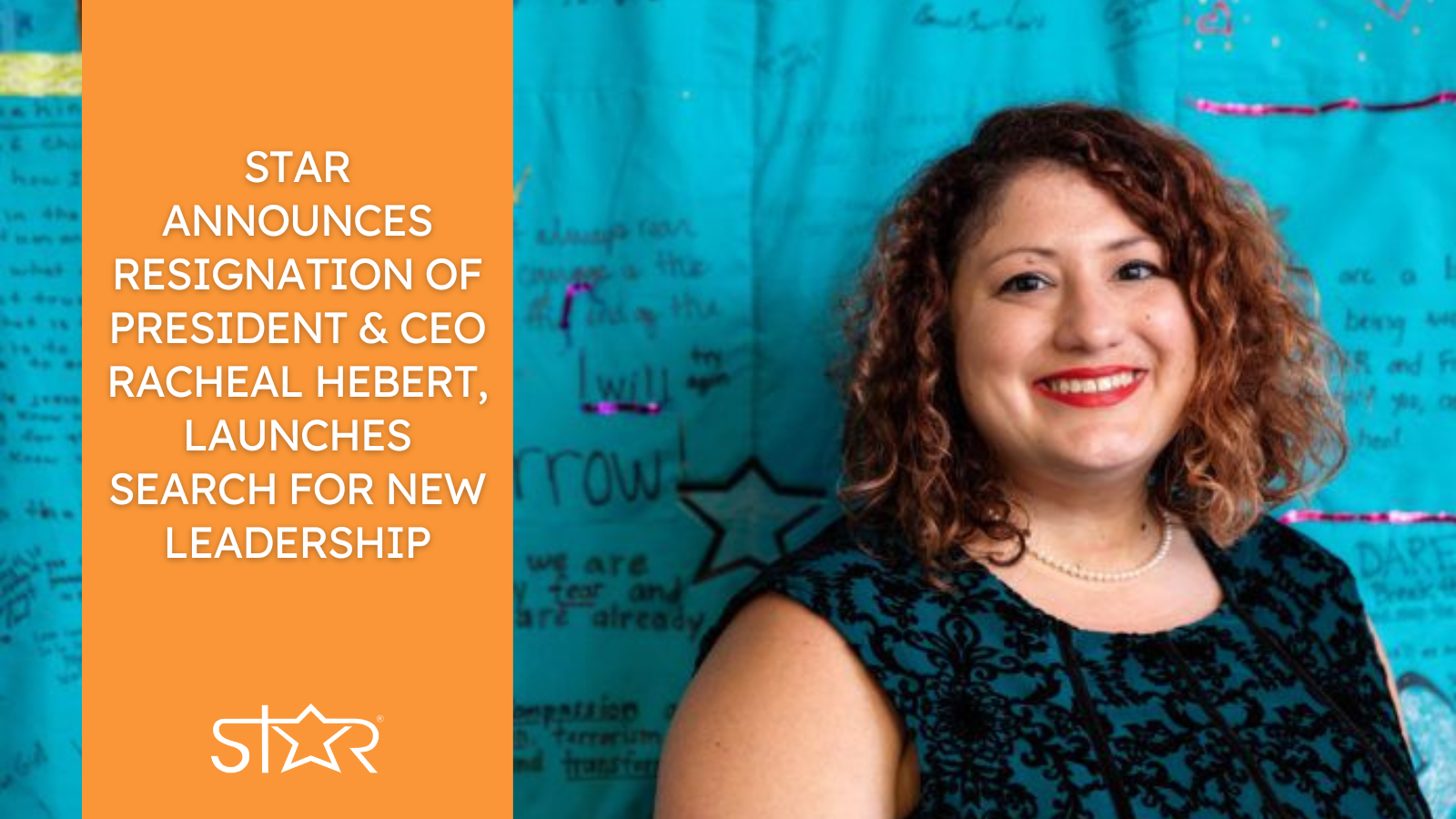 BATON ROUGE, La. (September 14, 2022) – Sexual Trauma Awareness & Response (STAR) – a nonprofit organization committed to serving survivors of sexual trauma and addressing sexual violence throughout Louisiana – announced today that founder Racheal Hebert will step down as President and Chief Executive Officer of the organization.
"It has always been my dream to build an organization as powerful and inspirational as STAR—one that has impacted thousands of people across Louisiana and created change in our state that no one expected from a small group of fiercely passionate people willing to relentlessly pursue results," said Racheal Hebert, President and CEO of STAR. "It is now time for me to step down and create space for a new leader to emerge and continue this work. This bittersweet decision is one that has taken me quite some time to come to, but finally concluding that it is best to transition from my position when the organization has a strong leadership team in place and is financially stable."
Hebert served as President and CEO of STAR for 10 years; she grew the organization to a multi-branch agency with 30 full and part time staff throughout her tenure. The STAR Board of Directors and Regional Councils express their gratitude for Racheal's service to the organization.
"Racheal has laid the foundation for STAR to do incredible work in the communities we serve over the last 10 years," said Branden Barker, Vice Chair of the STAR Board of Directors. "She has given this organization the tools we need to move forward, continue our growth, and shape the lives of countless survivors throughout Louisiana. We are incredibly grateful for her leadership, dedication, and commitment to this organization. There is no doubt that we will miss her, but we are hopeful for STAR's future as we begin the executive search process."
The STAR Board of Directors and Regional Councils launched a search for the next President & CEO of the organization, selecting Emergent Method, a Baton Rouge-based consulting firm, to lead the process and assist with the leadership transition.
The President and CEO is responsible for management and oversight of all administrative, facility, programming, and fundraising functions of the organization, in addition to leading strategic initiatives that move the organization forward and positively impact the communities it serves. The selected candidate will serve as the face of the organization; develop and maintain relationships with community leaders, legislators, members, and stakeholders; and partner with other organizations to collaborate on strategic planning, grant writing, and fundraising efforts. The President and CEO manages a team of nearly 30 and reports to the STAR board of directors and regional councils.
For more information about the position, visit star.ngo/work-with-us/. Candidates should submit a resume with a cover letter and references to STAR@emergentmethod.com.
###