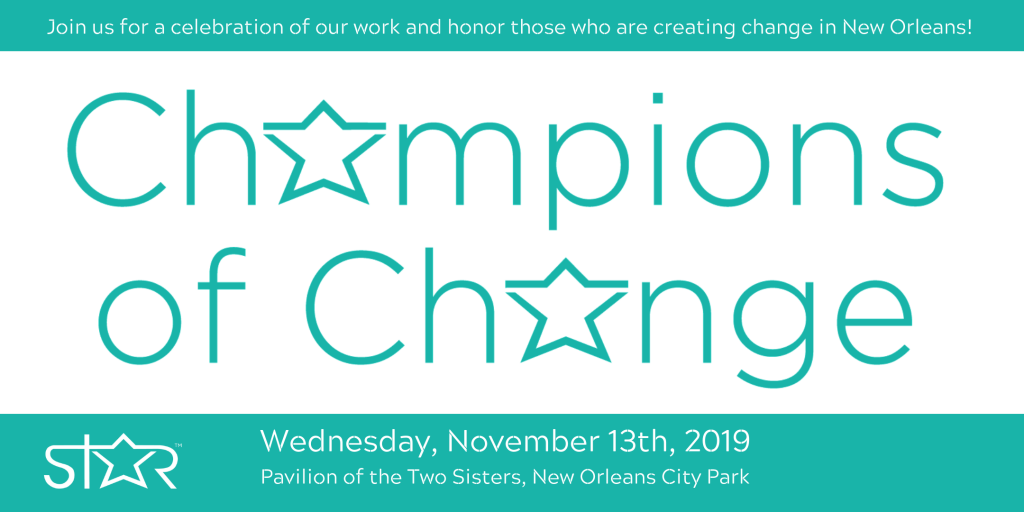 In honor of the many brave survivors and allies who shattered the silence of sexual abuse and assault this year, STAR is hosting the 2nd Annual Champions of Change Gala in New Orleans on Wednesday, November 13th, 2019 at the Pavilion of the Two Sisters at City Park. We are excited to recognize the individuals and organizations that allow us to continue this work and serve hundreds of survivors of sexual violence each year.
Advocate of the Year
Emmie Saux
Community Partner of the Year
Krewe de Lune
Representative Joseph A. Marino, III, District 85
Senator Yvonne Colomb, District 14
In Memoriam
Commander Doug Eckert, NOPD
Keynote Speaker
Angela Lore, survivor
Special Guest Speaker
Governor John Bel Edwards
This event will feature live entertainment, food, drink, and a raffle with prizes donated by local businesses. Early bird ticket prices are $50 per person if you purchase by November 8th. A week before the event, tickets increase to $85 per person.
Are you or your business interested in sponsoring Champions of Change? Click here to view our 2019 Sponsorship Packet, which includes benefits and levels of giving.