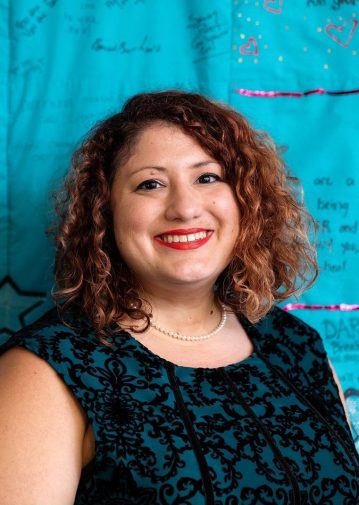 Racheal Hebert, LCSW-BACS
she/her/hers
Founder, President & CEO
Racheal Hebert, LCSW-BACS is the founder, president & chief executive officer of STAR. Racheal has worked in the field of sexual trauma and violence prevention since 2008, where she first started her career as the volunteer coordinator for the Rape Crisis Center, a division of the 19th Judicial District Attorney's Office in Baton Rouge. In 2012, she was instrumental in transitioning the organization into a 501c3 nonprofit rebranded as STAR.
Since 2012, Racheal has served as the CEO of STAR, where she grew the organization from a small operation with two employees in Baton Rouge to a multi-branch agency with 39 full and part time staff. STAR currently operates with a $2 million-dollar annual budget and has offices in Alexandria, Baton Rouge, and New Orleans. Each year, STAR provides free and confidential support services and outreach and educational workshops to thousands of people throughout Central and South Louisiana.
Racheal graduated with a bachelor's degree in sociology and women's & gender studies and a master's in social work from Louisiana State University (LSU).
A native of Houma, Louisiana, Racheal is proud to call South Louisiana home.
Honors and Distinctions
Honored as "Baton Rouge's Most Influential Women in Business" by the Baton Rouge Business Report, 2020
Honored as "BR Original Young Professional of the Year" by Forum 35, 2019
Honored with the LSU Women's Center "Esprit de Femme Award," 2015
Honored as one of Baton Rouge Business Report's "40 Under Forty Capital Region's Rising Stars," 2015
Honored with the "James Midgley Leadership Award" by the LSU Social Work Department, 2013
Honored as "Outstanding Feminist Activist" by the LSU Women's & Gender Studies Department, 2007
Professional & Community Affiliations
Mayor's Women's Advancement Commission
Member, 2017-present
National Association of Social Workers
Member, 2011-present
Email: racheal.hebert@star.ngo
Phone: (225) 615-7093 ext. 102
Capital Area Branch
5615 Corporate Blvd., Ste 200
Baton Rouge, LA 70808
Directions
Central Louisiana Branch
1403 Metro Drive, Bldg F
Alexandria, LA 70301
Directions
Greater New Orleans Branch
123 N. Genois Street
New Orleans, LA 70119
Directions