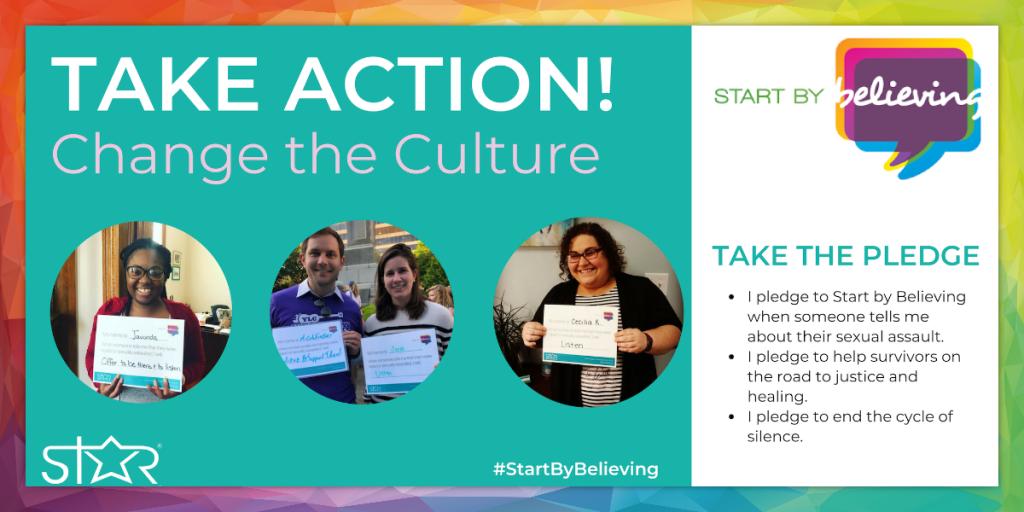 Start By Believing Day is Wednesday, April 3rd, and it provides an opportunity for communities across the country, and around the world, to unify with one meaningful message for survivors of sexual assault: We hear you and we are here to help you.
During the month of April, we encourage our communities to help raise awareness of sexual violence by taking the #StartByBelieving Pledge! A personal action kit and additional information about the Start By Believing campaign can be downloaded here.
This campaign is important because survivors often feel afraid to disclose their assault or report to police for fear that they will not be believed.
"It takes a brave person to share what I believe is one of the most traumatic experiences that can happen in a person's life. Believe them, believe in them." – Tonja

"When I finally started telling people I trusted that I had been raped, they often wouldn't talk back, or they would immediately change the subject, or leave, or would continuously talk over me until I was silent. When I finally told the police that I had been raped, they said they weren't going to prosecute the rapist because he had been dating me. Simply 

believing

 is important, but isn't enough by itself. What can you do?

-Listen.
-Believe.
-React.I was highly encouraged to be silent about having been raped, in order to make other people more comfortable. I was encouraged to suffer on my own so that other people's lives would be more convenient. That is not ok."-Laura

"Believing a survivor honors and affirms their courage to do an incredibly difficult thing, and it could be the single most important moment in their healing journey, to open the door for more healing." – Vonnie
On this day, and every day, we seek to end the cycle of silence and change the way we respond to sexual assault, by choosing to Start by Believing.
On Wednesday, April 3rd, add your voice to the #StartByBelieving campaign by posting a statement of support for survivors via a photo and/or video on Facebook, Twitter, Instagram and tag STAR @staradvocates. Download the Start By Believing Pledge sign here.
STAR also has a number of events scheduled for the month of April to honor Sexual Assault Awareness Month. Learn more at www.star.ngo/events.