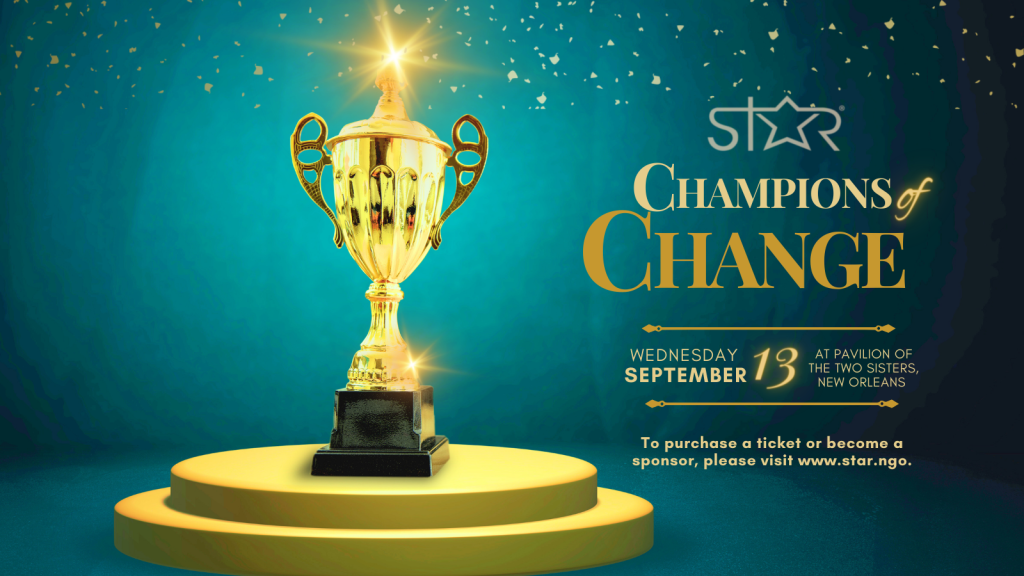 In honor of the many brave survivors and allies who shattered the silence of sexual abuse and assault this year, STAR is hosting our Annual Champions of Change Gala in New Orleans on Wednesday, September 13, 2023 at the Pavilion of the Two Sisters in City Park. We are excited to recognize the individuals and organizations that allow us to serve hundreds of survivors each year and transform our community to help end sexual violence. 
The 2023 Champions of Change honorees are:

Audrey Wascome, Baton Rouge, LA—Audrey is a survivor, writer, and activist living in Baton Rouge with her husband and two sons. She is widely published on the subject of sexual assault and survivorship. Additionally, she advises on survivor-centered public communications regarding sex crimes and is a volunteer for STAR.
State Representative Delisha Boyd, New Orleans, LA—Representative Delisha Boyd is an elected member of the Louisiana House of Representatives for District 102. As a State Representative, she advocates for equality for all, including a woman's right to choose, equal pay for women, equality for the LGBTQ community, better and enforceable Fair Housing Guidelines, more avenues for affordable home ownership, and living wages which will open more opportunities for members of our community to achieve the dream of home ownership. She is the mother of Kristen Boyd and the grandmother of Reagan Boyd.
Kristi S. Schubert, New Orleans, LA—Kristi Schubert is a litigator and trial attorney who has dedicated her legal practice to representing survivors of sexual abuse in civil lawsuits. She has obtained millions of dollars in verdicts and settlements for her clients and has successfully litigated against a wide variety of organizations, including churches, schools, private employers, and youth-facing organizations.
Lift Louisiana, New Orleans, LA—Lift Louisiana's mission is to educate, advocate, and litigate for policy changes needed to improve the health and well-being of Louisiana's women, their families, and their communities. Lift works to educate the public on the numerous issues facing Louisiana women and the policies and laws that will impact them. Lift strongly believes in reproductive justice and pursues legal remedies to secure access, availability, and viability of reproductive healthcare services.
Madison Nyquist, Madisonville, LA—Madison Nyquist, Co-Founder of the Louisiana Mental Health Conference, has dedicated her work in the behavioral health industry to advocate for mental health services for all, specifically survivors, the LGBT+ community and sex workers. Madison works to break down barriers for mental health care as well as to support the clinical community to advance skills through trainings throughout Louisiana.
Michelle Johnson, Denham Springs, LA—Ms. Michelle Johnson is the Founder of Michelle Johnson Consulting which provides expert solutions for justice and survivor-centered care to agencies serving child victims of commercial sexual exploitation, human trafficking, domestic violence, and sexual assault. Ms. Johnson is an integral part of helping survivors see hope for their future.
Dr. Rae Taylor, New Orleans, LA—Dr. Rae Taylor is an award-winning criminology professor at Loyola University and founder of the Gender Based Violence Research Project. She is a member of the New Orleans Domestic Violence Fatality Review Team, has served as a volunteer medical advocate, and regularly testifies in legal cases to bring perpetrators of violence against women to justice and to help defend criminalized survivors.
The Thurman Perry Foundation, Covington, LA—The Thurman Perry Foundation (TPF) is a Louisiana-based nonprofit operating nationally in service to women and girls impacted by incarceration, with a mission of providing scholarships, healthcare, and housing relief to 10,000 women by 2030. Founded in 2021 by formerly incarcerated woman turned epidemiologist, Gabrielle A. Perry, their Girl Code initiative—the only one of its kind in the U.S.—has donated over 150,000 organic menstrual products to correctional facilities throughout Louisiana and Texas. Dubbed "an organization committed to service" by Beyoncé Knowles-Carter's BEYGOOD Foundation, TPF is dedicated to ensuring all women and girls are afforded a second chance.
Tonja Myles, Zachary, LA—Tonja Myles is a victim of childhood and adult sexual trauma, has promoted wellness and rehabilitation by sharing life experiences, and has passionately advocated and moved thousands to healthy and sustainable living.
Tulane Women's Prison Project, New Orleans, LA—Tulane Women's Prison Project (WPP) seeks freedom for survivors of gender-based violence incarcerated for killing an abusive partner or trafficker, or for participating in crimes under duress. The WPP reaches survivors on the fringes of mainstream legal reform movements, addressing gender-based violence, trauma, and exploitation as prevalent pathways to prison.
The 2023 Exemplary Journalists are:
Jim Hummel, Lafayette, LA—Broadcast Award—Jim Hummel is an anchor/reporter in Lafayette, Louisiana. Hummel has won two Suncoast Regional Emmy Awards and three regional Edward R. Murrow Awards for his investigative work. He has also been named Louisiana's Reporter of the Year four times by the Associated Press Broadcaster's Association. Hummel is passionate about telling the stories of the people of Acadiana, and he is committed to holding those in power accountable.
Julie O'Donoghue, Baton Rouge, LA—Print Award—Julie O'Donoghue is a senior reporter for the Louisiana Illuminator. She's received awards from the Virginia Press Association, Louisiana Press Association and Louisiana-Mississippi Associated Press. Prior to working for the Illuminator, she worked for St. Louis Public Radio and The Times-Picayune. She is a Washington D.C. native.
Join us for this year's Champions of Change as we honor the advocates, journalists, and community leaders that have helped further STAR's mission over the past year. Purchase your tickets using the link below. Click here to view more information on sponsorship opportunities.