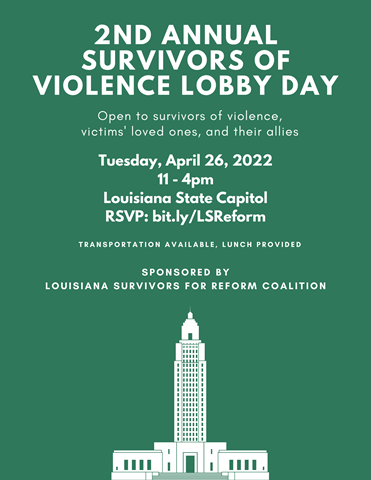 Calling all survivors of interpersonal and systemic violence, victims' loved ones, allies, advocates, and supporters to the State Capitol in Baton Rouge from 11 am-4 pm on Tuesday, April 26th! Survivors from across the state are coming together to make our voices heard during National Crime Victims' Rights Week and the legislative session. We will hear from advocacy and service organizations, speak with the legislators about our priorities, and build fellowship and community with each other. Visit https://bit.ly/LSRtracker for our 2022 Lege Session bill tracker.
We know what changes need to happen in Louisiana to build safe communities and support healing. No one needs to identify themselves as a survivor or share more than they want to participate! We will provide resources and training to folks on how the legislative process works, questions to ask legislators, advocacy talking points, and grounding/self-care techniques for ourselves. For more information on Louisiana Survivors for Reform Advocacy Trainings please visit https://bit.ly/LSRTrainings.
Lunch will be provided and transportation is available. Please fill out the survey below so we can get you all set up to attend! Call/text 504-535-4912 or email lsr@defendla.org with any questions. Visit https://bit.ly/LSReform for more information on Louisiana Survivors for Reform.